Yes, four millenia have not improved our sense of humor. Do you find this encouraging in that across cultures and eons we can clearly see we are one race with a single case of poor social skills? Or is it devastating to the pretentious idea of progress?
Well the joke in question (no need to read the article if that's what you were searching for to sound witty on a Monday) is incomplete and the answer didn't survive. So here's your challenge: using the fragment that remains, submit your Babylonian Yo Mama joke in the comments below.
Best joke wins a prize! You can select your favorite ancient history e-book from a list of titles I'll send you by email.
Be clever and don't let the Humbaba's get you down.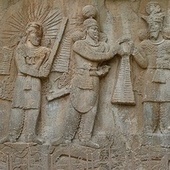 The world's oldest "Yo mama" joke is 3500 years oldio9Around 1500 BCE, a student in ancient Babylon inscribed six riddles on a tablet.
Via io9.com